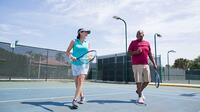 Our approach to heart health.
Using state-of-the-art equipment, leading-edge techniques, and a whole-person approach to wellness, our expert team of cardiothoracic surgeons, cardiologists, and vascular specialists work together to provide you with integrated patient care and a treatment plan tailored to your needs.
And because we know addressing heart health can feel overwhelming, you and your family can expect compassion, open communication, and inspiration throughout every step of your cardiac care.