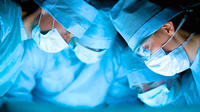 Comprehensive care for the whole body.
Surgery can be unavoidable at times. Our expert, compassionate surgeons go far beyond the scalpel — they evaluate your symptoms, make a diagnosis, create a treatment plan and a recovery plan.
General surgery is a mix of operative care to treat and correct a variety of medical complications that are both emergencies and scheduled, including:
Trauma injuries
Appendicitis
Gall stones or gall bladder removal
Hernia repair
Tonsillectomy
Vascular surgery
Multi-system surgery, such as after a car accident or illness
Breast surgery
Gynecological surgery
Skin complications
Our general surgeons.
Our general surgeons are board-certified and trained in anatomy, physiology, pain management, pathology, resuscitation and pathology. Many of our surgeons also have specialty training in certain parts or systems of the body, or specific diseases or injuries.