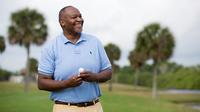 Losing weight is about more than the numbers on a scale. It's about creating a life filled with joy and confidence.
Our program offers an innovative, patient-centered approach to weight loss management. We can help you make a lasting change through minimally invasive, state-of-the-art treatment and compassionate follow-up care.
Fellowship-trained bariatric surgeons.
Registered dietitians and nurse navigators.
Patient education and support staff.
Exercise specialists and behaviorists.
In-person, online, and Facebook support groups.
Virtual appointments.
Ready to begin your weight loss journey? Start today with our NewFit quiz.