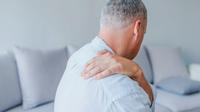 Get relief from chronic pain.
Living with pain can affect your entire life, including your relationships with others, your sense of self, and your emotional wellbeing. We want to help you feel better so you can reclaim your confidence and independence. 
Our customized pain treatments target the location and cause of your pain without narcotics. Your doctors will also consider your overall health, your lifestyle, and your treatment preferences.
What to expect.
Your pain management team will include highly skilled physicians, registered nurses, anesthesiologists and radiology technicians. 
We have a thorough evaluation process that pinpoints the cause of your pain and includes diagnostic tests, consultations, education and a personalized treatment plan.
Treatment plan options include:
Counseling on living and coping with chronic pain
Nutritional information
Non-narcotic pain treatment
Transcutaneous electrical nerve stimulation (TENS)
Radiofrequency neuro ablation
Nucleoplasty
IDET
Discography
Intrathecal pain control
Physical conditioning
What's causing my pain?
Our bodies often offer clear and precise reasons why we are in pain. Other times your medical team will have to search for clues, through lab work, imaging, physical symptoms and even a diary of your experiences. 
Common causes of chronic or acute pain include:
Osteoporosis
Shingles
Arthritis/osteoarthritis
Surgical procedures
Infection
Temporomandibular joint disorder (TMJ)
Headaches/migraines
Herniated disk
Back pain
Myofascial pain, or muscle pain
Bursitis
Carpal tunnel syndrome
Compressed vertebra
Nerve injuries
Autoimmune diseases
Lingering pain from traumatic injuries
Locations.
Cocoa Beach
701 W. Cocoa Beach Causeway
Suite 405
Cocoa Beach, FL
Viera
7125 Murrell Road, Suite C
Melbourne, FL