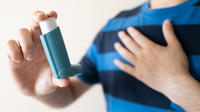 Take a deep breath.
No one wants to struggle to breathe. Our highly trained pulmonologists are lung specialists. We will work with you to figure out what is causing your symptoms and how to help manage them.
We treat chronic and acute lung and airway diseases, including:
Asthma
Inflammation
Chronic obstructive pulmonary disease (COPD)
Pulmonary hypertension
Chronic bronchitis
Emphysema
Cystic fibrosis
Pneumonia
Pleural effusion
When should I see a pulmonologist?
Your primary care doctor or an urgent care doctor can typically handle common respiratory illnesses such as colds, occasional bronchitis or the flu. But talk to your doctor about seeing a pulmonologist if you have the following symptoms that could be related to a lung condition:
A cough that lasts more than three weeks
Chest pain or tightness
Difficulty breathing, including during exercise
Wheezing
Dizziness, feeling lightheaded or fainting
Fatigue
Recurring colds or bouts of bronchitis that affect your respiratory system