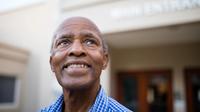 Our approach.
Getting older means more experiences, more adventures, and more time to kick back and enjoy your favorite activities. We can help you improve or maintain your wellness and health so you can take advantage of all that life has to offer.
Specialized healthcare for older adults.
Whether you are 65 or 105, the Aging Services Clinic is your one-stop resource for the healthcare and wellness services that fit your lifestyle.
We work closely with your primary care doctor, your specialists and your family to make sure you have everything you need to stay active and independent as long as possible.
Our services.
Our expert team of healthcare professionals specialize in caring for older adults. While we don't offer primary care, we do share our evaluations, care plans, resources and recommendations with your doctors.
Our services include:
Comprehensive geriatric evaluation
Personalized care plans
Individualized resources for you and your family
Memory and cognition care
Gait and balance evaluations
Medication review
Read and fill out our new patient packet before your first visit
Why should I see a geriatrician?
Just because you see a geriatrician doesn't mean you are geriatric. A geriatrician is a doctor with specialized training in the unique and often complex wellness and health issues facing older adults.
That could include everything from arthritis to a higher risk of infection to preventing medication interactions. 
Here are the top reasons why older adults visit the Aging Services Clinic:
Evaluation of memory loss to determine if it's due to normal aging or something else
Complete physical evaluation and a review of your medications
Connections and referrals to local community resources
Fall prevention and home safety measures
Health First Eldercare Helpline: 321-434-6666