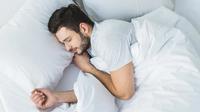 Welcome to the Sleep Center.
Sleep is essential to your wellness and health. Our specialists can diagnose and treat the condition that's keeping you up at night. 
We are the only hospital-based AASM-accredited sleep center in Brevard County. Our team includes board-certified physicians, including a pediatric sleep specialist for our youngest patients, nationally registered sleep technologists, and polysomnographic technologists.
Learn what to expect during your sleep study
Where do you rate on the Epworth Sleepiness Scale?
Take this self-assessment to find out if you are getting enough sleep.
Learn about common sleep conditions
Boost your sleep wellness.
We want to help you sleep well! Do you know how you can improve your chances of getting a good night's sleep? Try this:
Eat a light snack before bedtime, but not a big meal
Wake up at the same time every day, even on weekends and holidays
Use your bed only for sleep, sexual activity and to recover from an illness
Get more tips to improve your sleep
Sleep study FAQs.
We know the idea of falling asleep with electrodes attached to you may seem a little daunting. But most of our patients have no trouble at all falling asleep during a sleep study. We have answers to the most common questions and concerns about spending the night at our Sleep Center.
How to schedule a sleep study.
We want to get you on the path to a better night's sleep. To get started, your physician must send us a referral so we can treat you at the Sleep Center. Typically, your doctor will write a prescription for a sleep study if they suspect you might have a sleep-related issue.
Call us at 321.868.5832 if you have any questions about insurance coverage or pre-authorization requirements.
Sleep Center locations.
We look forward to seeing you at one of our AASM-accredited sleep centers:
701 W. Cocoa Beach Causeway
Cocoa Beach, FL 32931
P: 321.868.5832
F: 321.434.6103
8745 North Wickham Road
Melbourne, FL 32940
P: 321.434.9133
F: 321.434.6103
The National Sleep Foundation recommends 7 to 9 hours of sleep for adults aged 18 to 64, and 7 to 8 hours of sleep for adults aged 65 and older.
There are more than 80 different sleep disorders affecting millions of Americans.