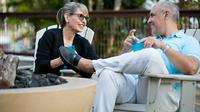 Reclaim your confidence.
Urology is a medical specialty that focuses on the urinary tract, which includes your bladder, urethra, ureters, kidneys, and adrenal glands, as well as male reproductive organs. 
We see many patients who feel uncomfortable and even embarrassed due to common urological symptoms, such as difficulty urinating or leaking urine. We can help.
Our highly trained specialists will evaluate, diagnose and treat diseases and conditions affecting these areas.  So you can get back to feeling like yourself.
Urology conditions include:
Urine leakage
Incontinence
Overactive bladder
Cancers of the bladder, kidney, and prostate
Interstitial cystitis
Bladder prolapse
Chronic urinary tract infections
Kidney stones
For women:
Pelvic organ prolapse
Fistula
Surgical mesh complications
For men:
Erectile dysfunction
Fertility or reproduction concerns
Urology for men.
Urologists treat men for sexual and reproductive health, as well as urinary and prostate conditions. Our doctors are not just highly trained, but also caring and understanding. We want you to take care of your health and feel well. 
Make an appointment with your primary care doctor for a referral to a urologist if you are experiencing these symptoms:
Frequent urge to urinate, including during the night
Dribbling, or leaking, urine
Blood in your urine or semen
Pain during urination or ejaculation
Difficulty getting or maintaining an erection
Pain in your testicles or scrotum, or pelvic area
Urology for women.
Urology complications are not uncommon for women, especially those who are older or who have given birth. Our compassionate urologists and urogynecologists can help. 
Make an appointment with your primary care doctor for a referral to a specialist if you are experiencing these symptoms:
Pain during sex
Frequent urination or painful urination
A pulling feeling or pain in your abdominal or pelvic area
Tissue protruding into your vagina