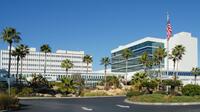 About this location.
Located just off SR 520 on the Banana River in Cocoa Beach, Cape Canaveral Hospital features 150 beds and over 200 highly skilled physicians.
Our hospital offers beautiful water views from its Birthing Care Center. The Women's Diagnostic Center features state-of-the-art, personalized services including digital mammography, ultrasound, stereotactic breast biopsy, and MRI breast imaging, and is accredited by the American College of Radiology and the US Food and Drug Administration.
Additionally, Cape Canaveral Hospital boasts a 21-bed Level II Emergency Department and an adjoining six-story Medical Plaza that includes physician offices, a conference center, pre-operative testing, outpatient diagnostic imaging, and same-day surgery.
Services we offer at this location. 
Allergy and Immunology
Anesthesiology
Breast Health
Cardiology
Critical Care (ICU and VitalWatch® eICU)
Dermatology 
Dialysis
Dietetics
ENT
EEG
Emergency Medicine
Endocrinology
Family Practice
First Flight
Gastroenterology 
General Surgery
Inpatient Hospice
Joint Replacement Surgery
Infectious Disease 
Inpatient Dialysis
Internal Medicine
Labor and Delivery
Lithotripsy
Med Surg Oncology
Nephrology
Neurology
OB/GYN
Oncology/Hematology
Ophthalmology
Orthopedics
Orthopedic Surgery
Pastoral Care
Pathology
Physical, Speech, and Occupational Therapy
Plastic Surgery
Podiatry
Psychiatry
Pulmonology
Rheumatology
Sleep Center
Urology
Vascular Surgery
Volunteer Services
Wound Care
Patient and visitor resources.