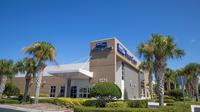 Building hours. 
Monday: 8:30 a.m. to 4:30 p.m. 
Tuesday: 8:30 a.m. to 4:30 p.m. 
Wednesday: 8:30 a.m. to 4:30 p.m. 
Thursday: 8:30 a.m. to 4:30 p.m. 
Friday: 8:30 a.m. to 4:30 p.m. 
Saturday: Closed
Sunday: Closed
Services we offer at this location.
Bariatric Surgery
Behavioral Health
Cardiology
Dermatology
Electrophysiology
Endocrinology
Family Medicine
Gastroenterology
General Surgery
Internal Medicine
Neurology
Neuropsychology
Nutritionist
Orthopedics
Otolaryngology
Pediatric Endocrinology
Plastic and Reconstructive Surgery
Psychiatry
Pulmonary Disease
Rheumatology
Urogynecology
Urology
Vascular Surgery
Urgent Care.
The urgent care providers and clinical staff at our Health First AdventHealth Centra Care in Melbourne are committed to providing compassionate, whole-person urgent care for you and your loved ones. It's our promise to greet you with compassion and do everything possible to restore your health. We even have on-site labs and X-rays to expedite your care.