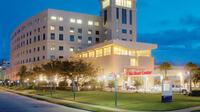 About this location.
Home to the only Pediatric ER in Brevard County, this hospital is conveniently located near downtown Melbourne. Health First's Holmes Regional Medical Center features 550 beds and more than 500 highly skilled physicians. As the region's premier tertiary referral hospital, Holmes Regional Medical Center offers patients life-saving technology at every turn.
The Heart Center at Holmes Regional Medical Center performs more cardiac procedures than all other hospitals in Brevard and provides patients with all-private rooms. As the only state-accredited Level II trauma center in Brevard and Indian River Counties, Holmes Regional Medical Center offers 24/7 trauma care and rapid patient transport via First Flight, Health First's air ambulance. Additionally, The Birth Suites Mother/Baby Unit offers Brevard's first Level II Neonatal ICU for our tiniest patients.
Holmes Regional Medical Center is also proud to be the first hospital in Brevard to offer state-of-the-art robotics-assisted surgery for Urology, Prostate, and Gynecological conditions, advanced anterior hip replacement and reverse shoulder surgeries. As a Primary Stroke Center, our goal is to transport, assess, diagnose, and treat each stroke patient within three hours of the onset of their symptoms. We also offer advanced, life-changing Interventional Neuro-Radiology procedures for advanced stroke treatment found nowhere else in Brevard. Our successes have been recognized by the American Stroke Association, who awarded us their Get with the Guidelines Gold Award.
Services we offer at this location. 
Allergy and Immunology
Anesthesiology
Cardiac Rehab
Cardiology
Cardiothoracic Surgery
Dermatology
Dialysis
Emergency Medicine
Emergency Stroke Intervention
Endocrinology
Family Practice
Gastroenterology
GYN Oncological Surgery
Infectious Disease
Interventional Radiology
Mother/Baby Unit
Neonatal Intensive Care Unit (NICU)
Nephrology
Neurosurgery
Neurology
Nuclear Medicine
OB/GYN
Occupational Medicine
Occupational, Physical, and Speech Therapy
Oral and Maxillofacial Surgery
Oncology/Hematology
Ophthalmology
Orthopedics
Otolaryngology
Pain Management
Pathology
Pediatrics
Pediatric Cardiology
Pediatric Emergency Department
Pediatric Endocrinology
Pediatric Pulmonology
Pediatric Rehab
Perinatology
Plastic Surgery
Podiatry
Psychiatry and Psychology
Pulmonology
Respiratory Services
Rheumatology
Robotic Surgery
Thrombectomy-Capable Stroke Center (TSC)
Trauma Center
Urology
Vascular Surgery
Volunteer Services
Women's Surgical Unit
Wound Care
Patient and visitor resources.