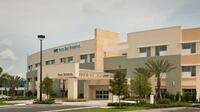 About this location.
Located on Malabar Road in the fastest growing area in Brevard, Palm Bay Hospital features 120 beds and more than 200 highly skilled physicians. Focused on cutting-edge technology, Palm Bay Hospital offers patients extensive Digital Diagnostic Radiology including digital mammography, X-Ray, MRI, CT, ultrasound, nuclear medicine, and tele-radiology. 
The first Brevard hospital to offer Thoracic Endograph surgery, Palm Bay Hospital also offers a full spectrum of healthcare services, including Cardiopulmonary, Surgery, Rehabilitation, Intensive Care, Emergency, and Endoscopy Services.
Additionally, we serve our community with a 27-bed Emergency Department treating 49,000+ emergency cases a year. Brevard's first Hospice patient facility, the William Childs Hospice House, is located in a secluded wooded area on our campus.
Services we offer at this location. 
Allergy and Immunology 
Anesthesiology
Cardiology
Critical Care (ICU and eICU)
Dermatology
Dialysis
Dietetics
Ear, Nose, and Throat (ENT)
Electroencephalography (EEG)
Emergency Medicine
Endocrinology 
Family Practice
Gastroenterology 
General Surgery
Gynecology 
Infectious Disease
Internal Medicine
Joint Replacement Surgery
Lithotripsy
Nephrology
Neurology
Nuclear Medicine
Oncology/Hematology
Ophthalmology 
Oral and Maxillofacial Surgery
Orthopedics
Orthopedic Surgery
Pain Management
Pathology
Physical, Speech, and Occupational Therapy
Plastic Surgery
Podiatry
Psychiatry
Pulmonology
Robotic Surgery (da Vinci® and MAKOplasty®)
Respiratory Services
Rheumatology
Urology
Vascular Surgery
Wound Care 
Patient and visitor resources.