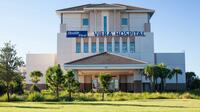 About this location.
Located west of I-95 on the southwest corner of Wickham Road and Lake Andrew Drive, Viera Hospital is the cornerstone of the 50-acre Viera Health Park campus. Viera Hospital offers quality medical care inside its beautiful five-story, 84 bed, acute-care facility.
Viera Hospital, opened in April of 2011, is the newest of the four Health First hospitals and is a beacon of healthcare for a rapidly growing community. Features include a 24-hour Emergency Department, all-private in patient beds, all-private observation beds, full medical and surgical capabilities, diagnostic imaging services, and the VitalWatch® eICU. State-of-the-art technologies are featured throughout Viera Hospital.
Accreditations, certifications, and awards
Services we offer at this location. 
Allergy and Immunology
Anesthesiology
Bariatrics Program 
Cardiology
Critical Care (ICU and eICU)
Dietetics
Dialysis
Electrophysiology (EP)
Electroencephalography (EEG)
Emergency Medicine
Endocrinology
Family Practice
Gastroneterology
General Surgery
Internal Medicine
Joint Replacement Surgery
Lithotripsy
Nephrology
Neurology
Oncology/Hematology
Ophthalmology
Oral and Maxillofacial Surgery
Orthopedics
Orthopedic Surgery
Outpatient Anticoagulation (Coumadin) Clinic
Pain Management
Pathology
Physical, Speech, and Occupational Therapy
Psychiatry
Plastic Surgery
Pulmonary Function Testing (PFT)
Pulmonology
Respiratory Services
Rheumatology
Robotic Surgery (da Vinci®)
Sleep Center
Urology
Urological/Gynecological Surgery 
Patient and visitor resources.