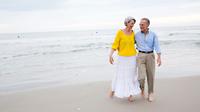 Who says aging means old? Stay active, feel good and maintain your independence with healthcare, programs and resources for older adults.
Specialized medicine, compassionate care.
Aging happens to us all. That's why we have a team that's specially trained in treating older adults who are staying active and living longer than ever before. 
We work closely with your other physicians and even your family, if you'd like, to improve your health and help you stay independent as you get older. 
Visit the Aging Clinic for:
Physical exam and monitoring of any symptoms
Thorough evaluation and review of your medications
Memory loss evaluation to determine if it's normal aging or something else
Connection to your local community resources
Find out how the Aging Services Clinic can make a difference
Caregiving essentials.
Caregiving is both rewarding and challenging. Our Center for Family Caregivers offers classes, programs, and events to help you feel connected and supported. 
Our programs include: 
Caregiver education
Events focusing on your wellness and health
Social events
Support groups
Creative workshops
Find support at the Center for Family Caregivers
Check out our monthly event calendar. We hope to see you soon.
Memory care at every stage.
Dementia and Alzheimer's disease can feel overwhelming and isolating. We are here to help. The Memory Disorder Clinic offers comprehensive memory care services and support for patients and families. 
Evaluations
Memory evaluation and screening
Memory enhancement
Research opportunities
Caregiver education
Classes for those with mild cognitive impairment and early memory loss
Support groups for the whole family
Get the memory care you need and the compassion you deserve
There are more than 580,000 people over the age of 60 living in Brevard County.