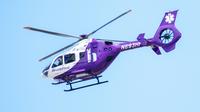 The Trauma Center at Health First's Holmes Regional Medical Center has been treating severe, life-threatening injuries for nearly 20 years. 
With First Flight, Brevard County's only air ambulance, and a multidisciplinary team of trauma specialists on the ground, you and your loved ones get the care you need as fast as possible. 
Our team includes:
Trauma and acute care surgeons
Orthopedic trauma surgeons
Mid-level practitioners
Critical care, emergency trained registered nurses
Trauma trained staff including psychologists, nurse case managers and social workers.
Learn about First Flight's life-saving mission
Inside the Trauma Center
Our 43,000-square foot, state-of-the-art trauma center and emergency department is outfitted with the latest emergency medicine technology and equipment to increase the speed of diagnosis and critical care.
The Trauma Center includes:
Three acute resuscitation rooms
Dedicated trauma suites with room to expand for additional patients
Priority location next to the emergency department to coordinate care during mass casualty events and disasters
Direct access to the First Flight helipad
The Health First Trauma Center has partnered with NASA to provide contingency healthcare for astronauts.
Survival stories
Holden knew a collision was inevitable the moment a semi-truck pulled out in front of his motorcycle. Read his incredible story of survival, strength and hope and meet other survivors who are thriving after trauma.